Lifewithoutscabies is a participant in the Amazon Services LLC Associates Program, an affiliate advertising program designed to provide a means for sites to earn advertising fees by advertising and linking to Amazon.com].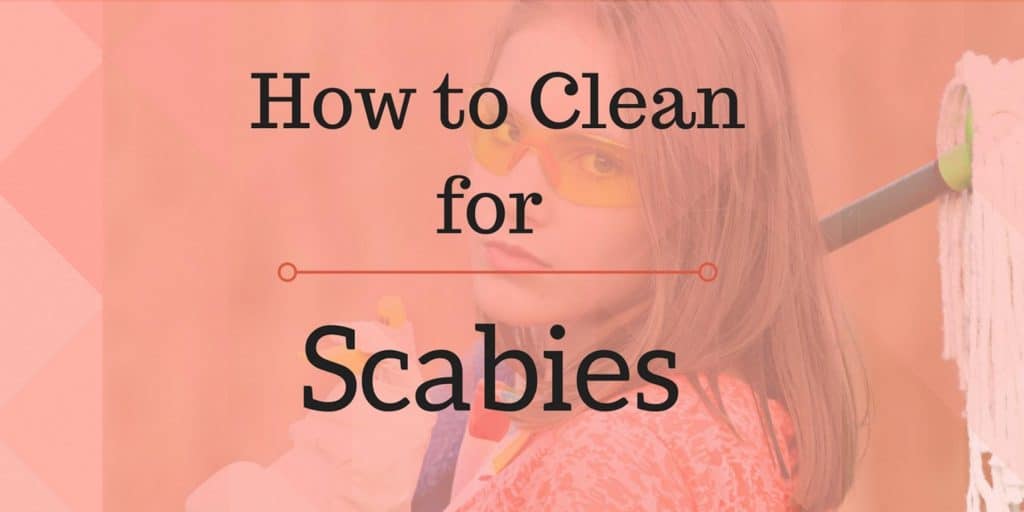 Updated 3/10/2018
Keeping a clean environment is an essential component of your scabies cure.
While getting rid of the mites in your skin is challenging enough, it can be even more challenging trying to avoid re-infestation.
If you've read around a bit on the Topix Scabies forum or elsewhere online then you have undoubtedly read complaints from people along the lines of "Scabies cannot be cured" or "Permethrin and Ivermectin won't work, nothing works!"
But that is far from the truth.
People have been cured, some very quickly, with these medications for decades.
Why these poor people can't seem to shake their infestation comes down to two simple factors:
1) They aren't using the medications correctly. (I've already covered that in?this post.)
or
2) They aren't doing a good enough job of keeping their environment clean.
An unclean environment = a constant risk for re-infestation.
Related: How to Get Rid of Scabies at Home Fast
You don't want to fall into the same miserable trap as the hopeless people I mentioned before. So let's go over some tips that will help you to out in your quest for cleanliness.
1.) Remove Unnecessary Stuff from Your Environment
Consider it an opportunity to practice simplicity.
Anything you don't think is necessary to keep in your life during this process – stow it away.
Household items like excess furniture, clothes, bedding, towels, rugs, blankets, couches. Store them in a spare room if you can, or if you have no spare room just wrap fabrics up in plastic so they are as easy to disinfect.?
Remember, it's a good idea to disinfect everything you've come in contact with. All it takes is a squirt bottle that you can carry around.
The more clutter there is the more you have to clean and the more risk that mites will be hiding away.
I mention more about this in the post 100 Practical Tips for Scabies.
2.) Deep Clean Everything
Surfaces – Use disinfectant sprays. Spray down anything you or other infested people come in contact with.
This Permethrin spray is very effective for this.?So is?Eco Living Scabies & Bed Bug Spray. Make sure to reapply after every use of an item.
Pets – We love our pets and we love to pet our pets. But for our sake all this petting is going to do the opposite of helping us contain the mites – your pet will spread them to whomever they come in contact with.
Though scabies mites are unlikely to actually live off of your pets' bodies it is highly likely that they can carry the mites on their fur for a long time if left there. You don't want that.?
As a solution, you can either get your friends or relatives to pet sit, wear gloves when you pet your animals or give your animals a good washing. Ideally wash with a strong solution, like this Sulfur concentrate pet dip for baths.
Carpets – With counter tops, a quick swipe of a disinfectant will do the trick. Especially if you have thick carpets like shag. It's a good idea to borrow or buy a?steam cleaner.
The heated water and soap will kill off any mites that are currently calling your carpet home, not giving any mites a chance to burrow and wait.
3.) Does Lysol Kill Scabies?
This is a common question I get.
Lysol is a powerful disinfectant and will kill scabies on surfaces.
Ultimately permethrin spray is my top recommendation for cleaning surfaces. But I recommend Lysol as well.
Use Lysol or Lysol wipes to clean tables, handrails, car surfaces. Any surface you've touched while infected.
4.) What is the Best Scabies Spray?
If you're going to be cleaning your environment with a disinfectant spray you want to use the best ones.
The most important thing, of course, is to use a spray that kills the mites on contact.
Below are the top recommended sprays for scabies:
5.) How to Get Rid of Scabies on Mattresses
The first thing you'll want to do is cover your mattress.
Give your mattress a quick spray with some Lysol/permethrin cream/alcohol
Place a mite-proof zippered mattress encasement keeps over your mattress to completely keep the mites away from it.
You can purchase protective mattress covers for all bed sizes here.
Alternatively, you can purchase an air mattress with a plastic cover built in. These are easy to sanitize on a daily basis with Lysol, disinfectant wipes etc.
Now that your mattress is covered you can sleep on it.
Your daily ritual while infested should be to put on fresh sheets every morning. Don't sleep on the same sheets twice.
Use some bleach or tea tree oil in the wash cycle. Dry all of your sheets on HIGH heat and for a long cycle before using them again.
6.) How long Can Scabies Live in a Mattress?
Scabies can live for two weeks or more without a human host.
It does depend on the surface though.
A countertop, for example, isn't a great host place for scabies. They'll likely die before two weeks there.
But a mattress provides a nice temporary home for the mites. It provides safety and often provides food. All of the dead skin cells that slough off onto our mattresses provide sustenance for the mites while they are waiting for the next human host.
Gross huh?
All the more reason to put a zippered mattress encasement over your bed like mentioned previously.
If your mattress is likely to already be infested I recommend not using it. If it's your only mattress then put a zippered case over it and don't take it off until at least a month after you're cured.
7.) How long Does Scabies Last on Furniture?
Scabies can live on furniture for two weeks or more.
Scabies mites prefer to have a human host but without one they can still hang out and live for quite awhile.
If you think you have scabies mites on any your furniture you should either store it away until the infestation is over with (at least 3 weeks after) or you should clean your furniture regularly after each use.
8.) How to Get Rid of Scabies on Furniture
In an ideal world, you could easily wash and sanitize your furniture with scabies compatible surface cleaner spray.
Unfortunately, many people have upholstered furniture. This type of furniture?is much harder and more time-consuming to clean.
If you have upholstered furniture I recommend covering them with a vinyl cover or covering them with sheets. You must clean these surfaces after every use. Vinyl cover with surface cleaner and sheets in the wash with high heat.
If you have plastic furniture stored away this is a great time to bring it out and put your fancier, harder to clean furniture in storage for a little while.
Just be sure whenever you use your furniture that you clean it after. Either wash your protective coverings or clean the surface directly.
9.) Does Rubbing Alcohol Kill Scabies?
Yes, rubbing alcohol can kill scabies on direct contact.
You can use rubbing alcohol when cleaning your environment.
Rubbing alcohol is not recommended for treating your skin, though.
For that permethrin cream and internal ivermectin are recommended.
10.) How Long can Scabies Live on Clothes?
Scabies can live on clothes for two weeks or longer.
If you have clothes that might be infested with scabies you should either:
A.) Put them in a trash bag and store them away for at least a month. Ideally a month and a half. You should only bring them out after you've been cured.
B.) If you don't want to put them in temporary storage you should clean your infested clothes regularly. Never wear the same clothes twice in a row. Wear them once and clean them before wearing again.
Make sure when washing contaminated clothes to dry with HIGH heat on a long cycle.